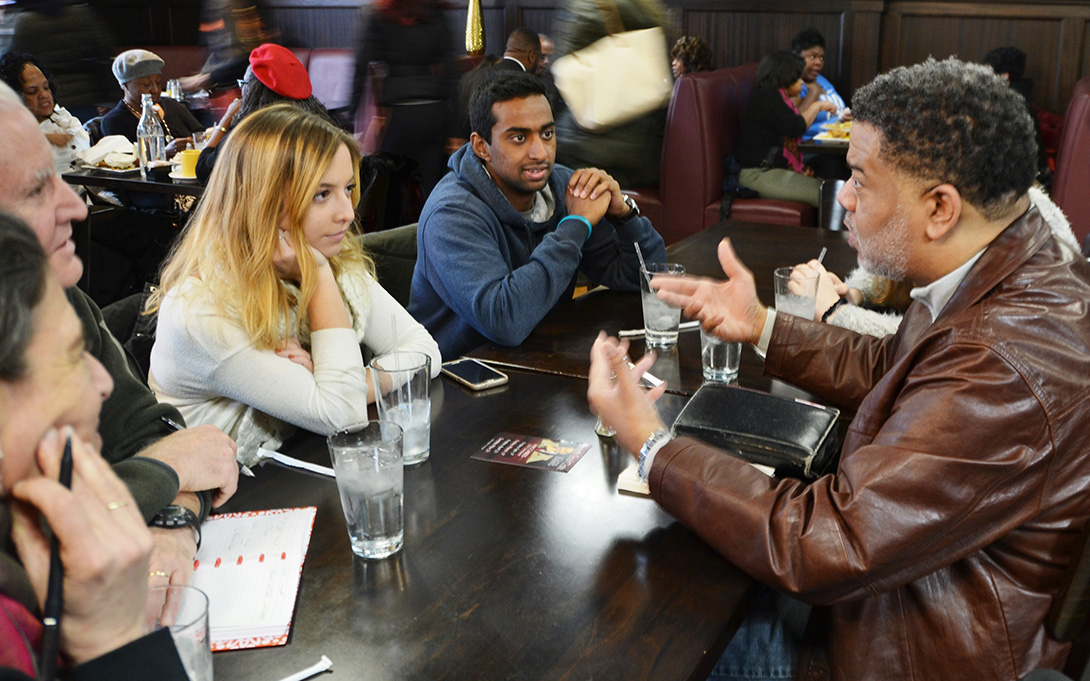 On December 18, Detroit Neighborhood Entrepreneurs Project (DNEP) interdisciplinary student teams from the Ross School of Business, Law School, and Stamps School of Art and Design presented their final summaries and recommendations to their Detroit clients, fellow students, and faculty members. Their DNEP experience provided the first opportunity for Design and Accounting students to attend class together every week as well as participate in all school meetings.  The result was a more integrated sets of recommendations for their Detroit clients. The collaborative student teams were paired with Detroit entrepreneurs to develop key marketing, branding, operational, financial, and legal strategies.  The three Fall 2018 DNEP clients were Detroit Soul (restaurant), Chugga's Bakery, and Lunch Brake (new mobile food business serving "Downriver" workers). 
Detroit Soul
Detroit Soul Team student members provided three broad strategies for the well-regarded restaurant's owners Sam Van Buren and Jerome Brown. These were to change pricing, take out a loan to buy more equipment to increase capacity, and modify their branding.  A long-term recommended strategy is to partner with a delivery service. The students provided detailed data and analysis regarding loan providers and delivery services, outlining the positives and negatives of a variety of companies/providers. Detroit Soul owners were especially pleased that the branding change suggestions regarding their logo  incorporated the elements of the old one, much valued by the owners, while making it more legible and clear.

Chugga's Bakery
The Chugga's Bakery student team provided design advice through creating a new logo and thoroughly researching and analyzing packaging options for the baked goods Chugga's provides for local grocers. A consistent challenge for Chugga's has been that their specialty monkey bread and other products are not protected in their current packaging. The team created prototypes of shelves and packaging that owner Ruth Bell was able to take with her. Students also provided an extensive spreadsheet breaking down the costs of each ingredient in their recipes to allow for price tracking and projection of future recipe costs and profit margins. The team identified a potential future revenue stream in the creation of Chugga's baking mixes.

Lunch Brake
The Lunch Brake team started by building their own understanding of entrepreneur Achsha Jones' business, which they described as: "a 'catering-on-wheels' concept (which) aims to provide food from local, Detroit based restaurants, for Metro Detroit workers in remote, industrial park areas, where access to healthy, fresh food options are limited." Lunch Brake's challenges include acquiring capital, high costs, sourcing, and food safety. The team created a strategic plan and social media strategy focusing on food, Lunch Brake's story, and community. After analyzing the relevant financials, the students suggested starting with a "mini Lunch Brake" food cart that would eventually progress to a full restaurant in a bus or "bustaurant." They also updated Lunch Brake's website, adding a detailed and engaging illustration of Ms. Jones' business journey to better inform potential investors about the unique service she provides to isolated workers in Detroit.

The DNEP clients had high praise for their student teams and DNEP. Lunch Brake's Achsha Jones described her team as "incredible…every school, every interaction has been about pushing my business forward." Jerome Brown of Detroit Soul expressed what makes DNEP unique and particularly helpful to him as an entrepreneur who has moved beyond the start-up phase, "as minority business owners we have a (startup) ecosystem, but as businesses like ours start to scale, we're looking for 2.0 support space to help us prepare – this is more than introductory stuff."  The entrepreneurs also told the students how much they appreciated their coming to Detroit to work directly with the businesses, their communication skills, and their visionary instincts.

Stamps School and DNEP faculty member Hannah Smotrich describes the shared learning experience as follows: "Our student teams understand that they are there to help the clients with their design, accounting, and legal needs, but they don't anticipate how much they will learn from the entrepreneurs. Having the opportunity to develop their skills in a real-world context and see firsthand how passionately the entrepreneurs work on their businesses is a very powerful experience for students. This is reciprocal learning at its best."