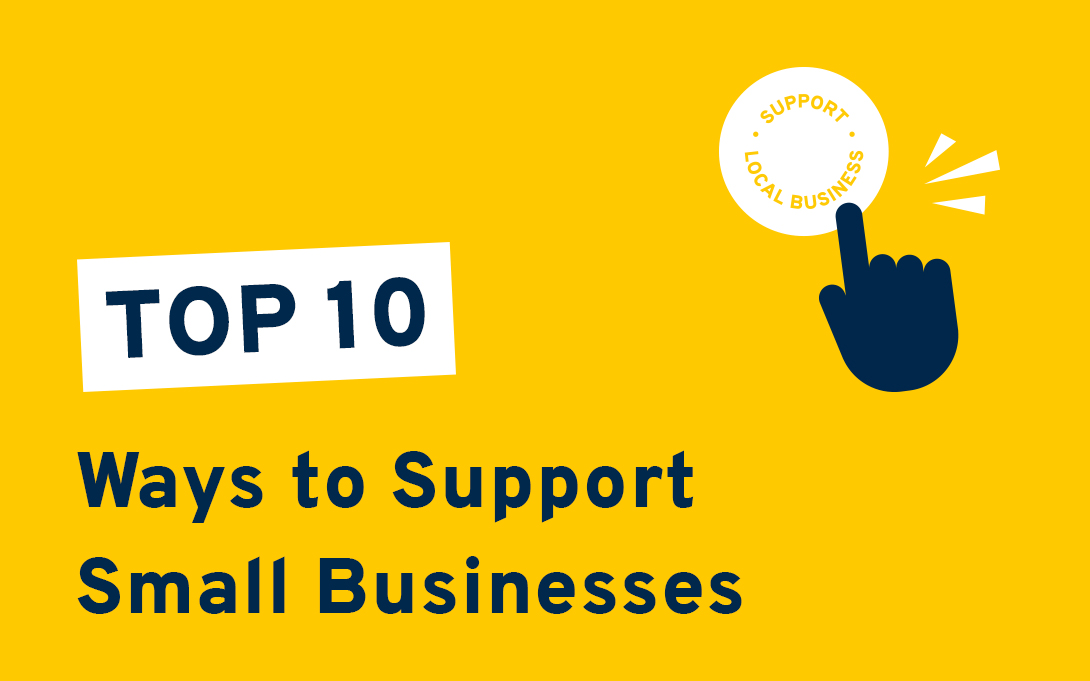 One year into the pandemic, small businesses need help more than ever.
If you ask someone what they love about a neighborhood, it's almost inevitable that they are going to mention a favorite local restaurant or shop, bookstore, or salon. Many small, local businesses are more than a place of commerce—they are community spaces, neighborhood anchors, and dedicated job providers for folks from the neighborhood. 
After a year of swift pivots throughout the pandemic to adjust to changing health rules and consumer needs, many of our favorite business owners are financially and emotionally tapped. How can we help? In coordination with the Ford School of Public Policy, the University of Michigan's Detroit Neighborhood Entrepreneurs Project offers this list of 10 ways to provide meaningful support for local businesses, in order of time commitment. 
10.  Follow Your Favorite Businesses on Social Media.
It takes ten seconds to follow your favorite local businesses on Instagram, Twitter, or Facebook. When you like their posts or share them with your network, you give the owner a little energy boost, but you also are boosting their advertising reach. "Birds of a feather flock together," as the saying goes, meaning, if you love a business, your friends probably will too. When you follow, like, or share a business' posts, you indirectly help them find new potential customers from your network. New or tiny businesses reap another benefit on Instagram from your shares: businesses with 10,000 followers can create "swipe up" links that allow links in the bio. These links can convert likes to sales—a real benefit for businesses who can't afford paid advertising. Time commitment: <10 seconds.
9.  Write Positive Reviews about Your Favorite Businesses.
Businesses, especially small businesses, love positive reviews on Google, Yelp, Facebook, etc. Why? With many businesses shuttered throughout the pandemic, recent reviews signal that the place is still open for business. This can make a big difference in attracting new customers: no one wants to drive across town just to find out that the place is closed. It's not just coffee shops and restaurants that depend on online reviews, however: these reviews are especially important for professional service providers such as HVAC technicians, electricians, plumbers, hair stylists, real estate agents, accountants, dog groomers, doulas, or graphic designers. (Bonus: post a picture, too, so new customers know what to expect!) Time commitment: 3 minutes. (Level up: do this once a week.)
8.  Be a Sounding Board— Sign up for Email Newsletters.
Many micro-enterprises don't have the budget to pay consultants and convene formal focus groups to test out messaging or new product offerings before they invest their life savings in bringing them to market. So what do they do? They ask the devoted customers on their email lists for feedback. When you join a business' email list, you become available to offer honest feedback about your experiences and preferences, which in turn, helps shape business owner decisions. Bonus: being on the email list is also likely to earn you discounts and a heads up about big sales, too. Time commitment: 3 minutes.
7.  Make a 0% Interest Loan—Buy Gift Cards.
To you, a gift card is a way to introduce a client to a neighborhood institution, or to treat your favorite couple to a night out. To a business, a gift card is a 0% loan they got without even having to apply, which can stabilize cash flow. At the beginning of the pandemic, a small group of Ann Arbor entrepreneurs and University of Michigan faculty and staff established a website, saveMIfaves.org(link is external), to help support Michigan businesses in this way. You don't have to just buy gift cards for others though -- if you know you will be spending $100 a month at your favorite restaurant, you might consider buying a gift card for yourself to use, so that the restaurant has the cash buffer a little longer.  Time commitment: 5 minutes.
 6. Rock the Merchandise.
When businesses are closed or at limited capacity, merchandise sales can offer a helpful boost to a small business' bottom line. So buy the t-shirt or hat, and wear it everywhere. It's a conversation-starter, a laundry-day reminder of how important gathering places are for creating community, and a financial win for your favorite community place. Note: this doesn't resign you to wearing a donut shop tee, either, if that's not your look -- theater companies, comedy clubs, museums, karaoke bars, and bookstores could also use the support. (Think you could make something better than what your favorite gathering place offers? Offer up some new designs to the owner. They might take you up on it!) Time commitment: 15 minutes.
5.  Make a Microgrant or Support Local Pitch Competitions.
How do you come up with $500 when you don't have wealthy friends or family to help you out? You pitch your idea to strangers. In Detroit, there is an organization called Detroit Soup(link is external) that hosts monthly dinners where the proceeds for the evening go to the winning pitcher. You can find pitch competitions on Eventbrite or by doing a google search of your area. Time commitment: 60 minutes.
4.  Make a Microloan through a Non-profit Lender. 
In study after study, small business owners note that what they need most is more capital, and sometimes the amount they need is pretty small—like, $1000. This funding gap is particularly acute for minority-owned and women-owned businesses, who tend to operate smaller businesses. At the startup stage, micro-enterprises often do not qualify for small business loans through traditional lenders. By donating to reputable, non-profit microfinance institutions like Kiva(link is external), Opportunity Fund(link is external), Dreamspring(link is external) (formerly, Accion), Michigan Women Forward(link is external), or the Detroit Development Fund(link is external), you help provide the cash needed to help a small business scale. Time commitment: 30-60 minutes (to pick out which one you want to start with).
3.  Get Your Co-Workers Involved. 
For your next company retreat or team-building event, why not suggest a baking class at a local bakery, or a pottery workshop at your local art studio? Many small businesses are willing to rent out their space for birthday parties, wedding receptions, or other events, even if they don't usually do that. Do you organize conferences, large meetings, or other events with food? Get your favorite local businesses on the approved vendor list, and then encourage your colleagues to order from them. Time commitment: 2-4 hours.
2.  Offer Up Your Skills. 
It takes a wide range of skills and expertise to run a business—financial skills, legal knowledge, human resources, management, design, marketing, sales, procurement. By law, the smallest employers are generally treated as if they were Fortune 500 companies, forcing entrepreneurs to wear many hats and often do things outside their skill sets. If you have professional skills that could be useful (from accounting to social media marketing), you could offer them up directly to a business owner you know. Not tight with any business owners? Volunteer with a community development financial institution (CDFI) that pairs loans with technical assistance. Business service organizations like Accounting Aid Society(link is external), ProsperUs(link is external) or TechTown(link is external) offer multiple opportunities to use your skills to improve a local business. Still in school? The University of Michigan, Wayne State University(link is external) and Lawrence Technological University(link is external) all offer engaged learning courses that work directly with small businesses.  Time commitment: Varies widely. 
1.  Buy Local Whenever You Can.
Free shipping is great, but the big retailers don't need your money. Neighborhoods without small businesses lack soul. Think about the products you buy from Amazon, Target, Wal-mart, or other large retailers, and see if you can find them locally. This reduces your carbon footprint, and helps make your neighborhood vibrant. If your habits have changed over the course of the pandemic, now might be a good time to revisit some old favorites, like that karate class you used to love. 
Christie Baer is the assistant director of the University of Michigan's Center on Finance, Law & Policy, which coordinates the Detroit Neighborhood Entrepreneurs Project.