Video, Language & Storytelling
Case Studies: Telling Stories through Videos & Posters

Narrative Video for Farmacy Food
Kwaku worked with a previous student team to develop the brand identity for Farmacy Food. Although the suggestions were visually compelling, they felt a little too similar to a couple other notable players in the Southeast Michigan food scene.  Kwaku and his team were hungry for a visual identity that was unique to Farmacy Food. 
After several iterations, Farmacy Food and the ISLB found written and visual elements that felt authentic to its mission. A narrative video was selected to convey Farmacy Food's brand identity to various community members, stakeholders, business professionals, and potential clients. After conducting an interview with Kwaku and collecting additional photos, video clips, and graphics from Farmacy Food's branding guide, a 4-minute video was curated to tell the story of why someone should invest their time and energy into Farmacy Food.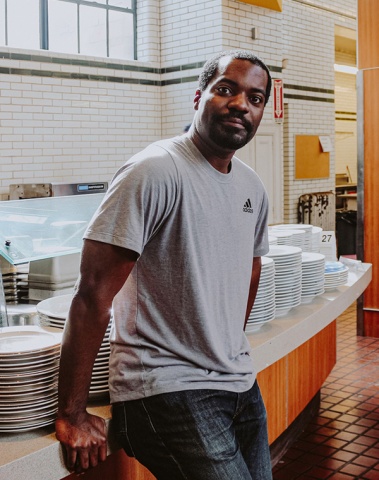 Kwaku Osei
Founder & CEO, Farmacy Food
"What has been created is incredible. It really blew past my expectations when I look at the full assembly of work that's been created: the narrative video, the packaging design, etc. Everything that you guys have done all the way down to the language that was created. This type of thing that companies hire an agency to do and spend $50,000 and yet still doesn't get the level of quality that was delivered by you all. It just goes to show the power of a team of really smart individuals coming together to do something great."

Historical Posters for Detroit Soul
Jerome and his brother Sam at Detroit Soul were looking to solidify and improve their brand identity and implement it into their new location in order to convey their story to customers. They wanted to showcase the historical foundations of soul food and what inspired them to open Detroit Soul.
Jerome and Sam expressed interest in converting the historical timeline featured in their original location to professional-looking historical posters about the history of soul food for their new location. After discussing with the business owners, we did a deep dive on the history of soul food and its progression through American history. We took this research, condensed it into prose, and divided it into three historical posters: The Soul in Soul Food, The Roots of Soul Food, Soul Food Then & Now. We then worked to posterize historical photos and photos from the business itself within the new color palette we had developed for Detroit Soul to coordinate with the written content.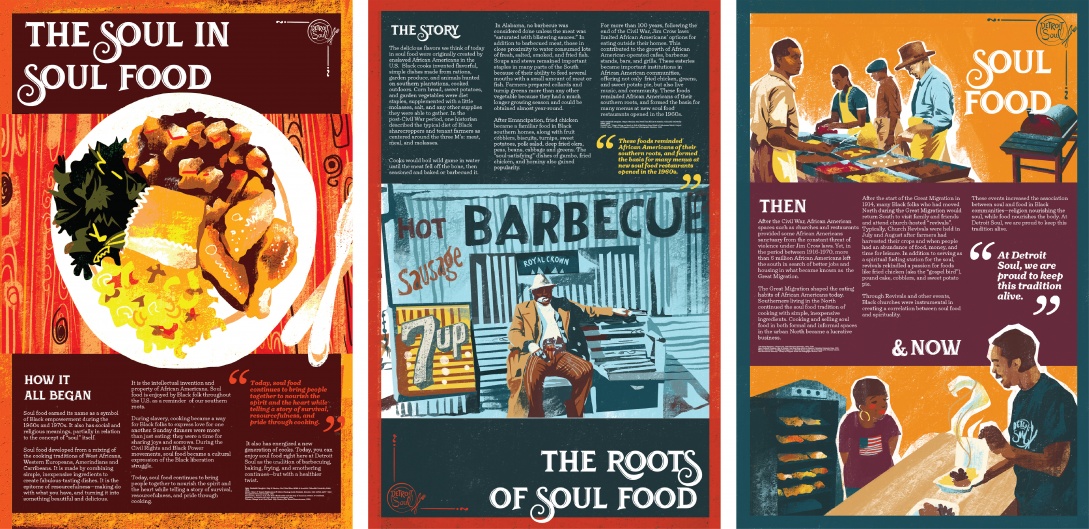 Read the stories on each poster: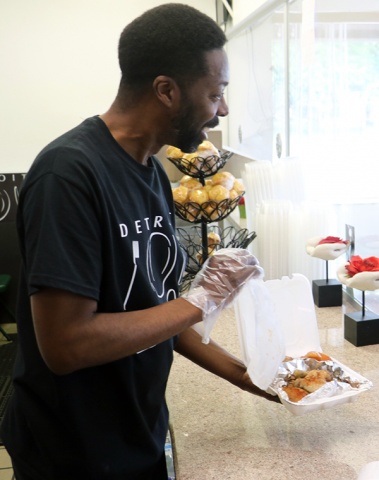 Jerome Brown
Owner, Detroit Soul
"These historical posters chronicle the history and evolution of soul food. This is a hallmark for Detroit Soul. In our current location we have an entire wall displaying African American contributors. [These] posters allow us to showcase the history of soul food in a professional way in our new location."