Branding Assets for SpaceLab Detroit
SpaceLab Detroit is a co-working community space. Business owner Karen came to us with a logo that was not easily readable or transferable, and needed an updated, modern look. She also did not have an established visual identity. Because the market for coworking spaces is so competitive and has been hurt by COVID-19, we knew we needed to give her brand more personality. Despite offering clean coworking spaces in a collaborative environment, SpaceLab's website only had one photo of the physical space and did not show any photos of people working together.
Through competitor profiling and conversations with Karen, we developed a plan to differentiate SpaceLab's visual and verbal identity. We visited SpaceLab to create photographic content for her website, and this visit informed our color palette. We updated the logo by minimizing and modernizing the concept that was already there, rather than abandoning the client's original design by creating a new visual identity. We then created a branding guide that outlines how to use the logo, colors, typography, photos, and circular brand elements.
The logo, before and after:

After visiting the space to take photos, we created a color palette to match the colors of the office, creating an identity that fits in with what already existed while bringing something new to the table: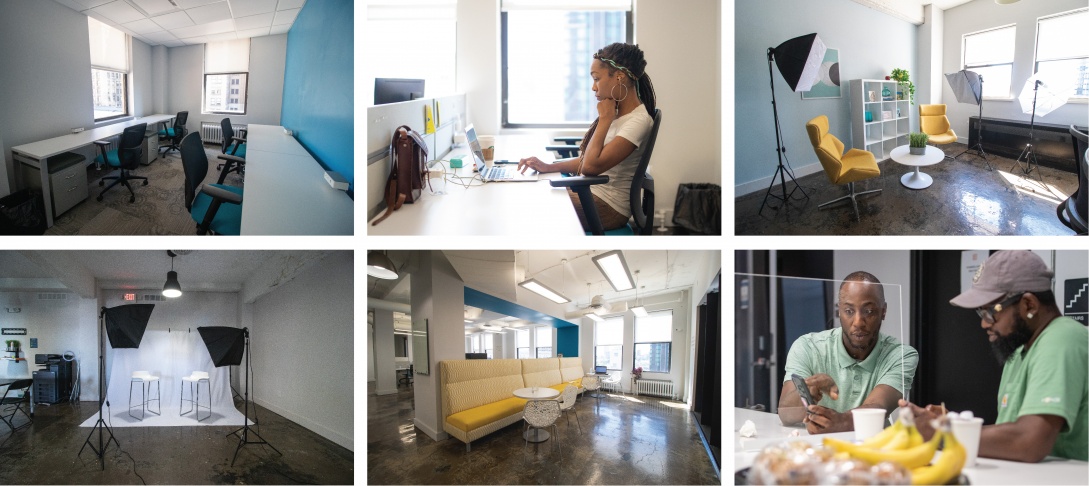 Finally, to keep SpaceLab consistent, we left Karen with the new SpaceLab branding guide:
Social Media Guide
Several businesses working with the DNEP +ISLB program expressed interest in growing virtually through online platforms. These businesses wanted guidance on how to improve their social media game, whether it be by generating content ideas, creating tutorials to improve consistency in graphic design, or even just general tips for posting on Instagram.
To assist these businesses with such issues and allow them to virtually convey the identity and ideas that they actually want to convey, we created customized social media guides for four Detroit businesses. While those guides are the intellectual property of the individual businesses and can't be shared, we want to provide something similar for other businesses who may benefit. Therefore, we are happy to share snippets from various business' guides and some more general advice in this free, downloadable social media guide for small businesses. This guide also includes sections specific to beauty/product businesses and restaurant/hospitality businesses.
Explore the guide below: