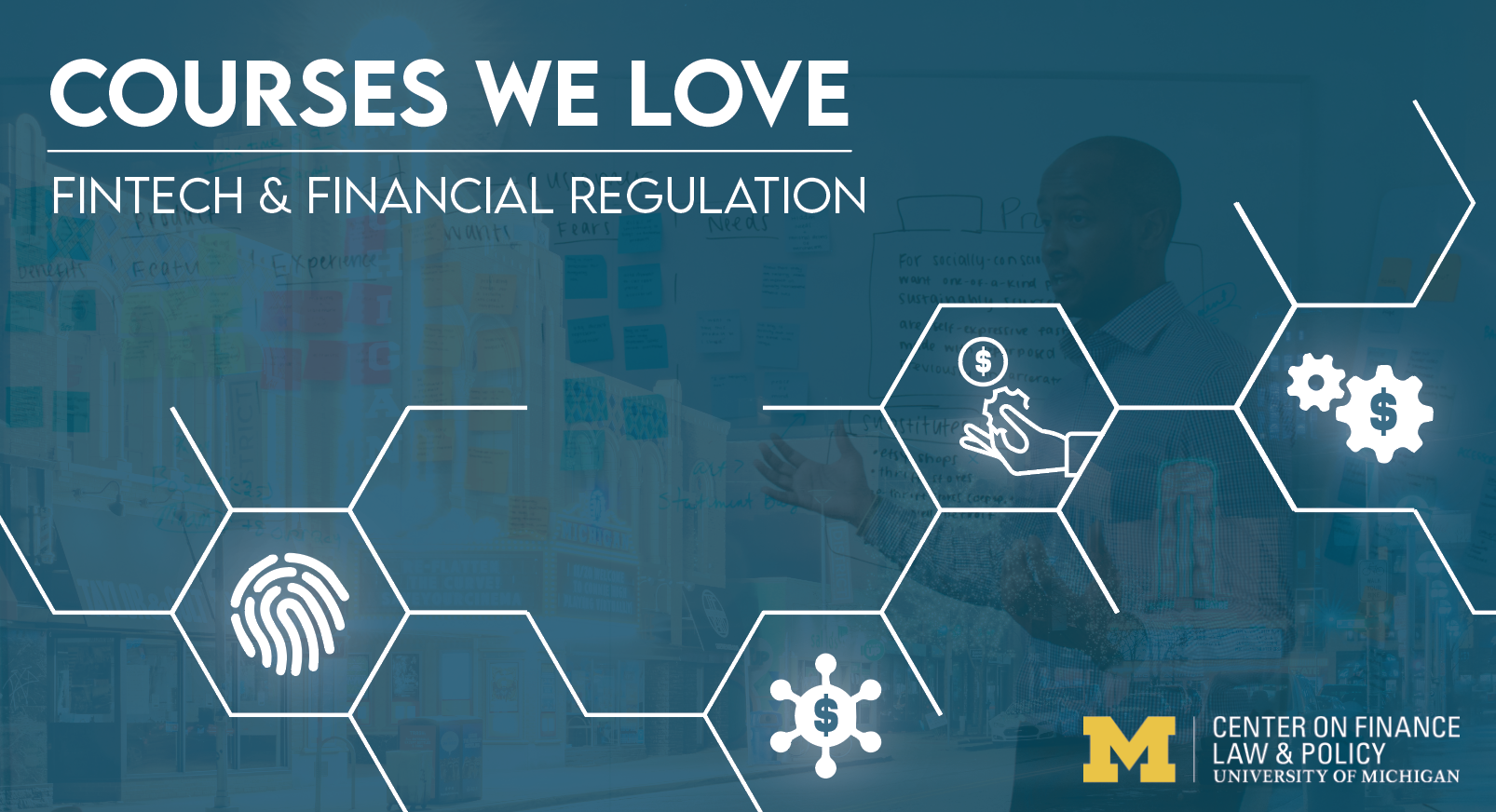 Are you interested in pursuing a career in public service working on financial issues (i.e., with a regulator, policymaker, or think tank), or headed to a corporate job in financial services (i.e., with a fintech, a law firm, or a financial institution)? As students begin "backpacking," the Center on Finance, Law & Policy has curated an interdisciplinary list of classes you might consider taking in Winter 2023. All of these courses were recommended by CFLP alumni who now work in those fields, or are new courses that seem promising:
Ford School of Public Policy:
Politics of Public Policy (PubPol 510) - Valenta Kabo

Values, Ethics & Public Policy (PubPol 580) -

John Ciorciari, David Thacher, Joy Rohde

Performance Management (PubPol 586) - Barry Rabe, Fabiana Silva

Public Management (PubPol 587) - multiple instructors

Integrated Policy Exercise (PubPol 638) - Elisabeth Gerber

Negotiation Basics for Public Policy (PubPol 583) - Attia Qureshi

Qualitative Methods of Program Evaluation (PubPol 639) - Yusuf Neggers, Katherine Michelmore

Introduction to Policy Writing (PubPol 529) - Beth Chimera, Molly Spencer, Alexander Ralph

Macroeconomics (PubPol 556) - Joshua Hausman
Law School (graduate students only):
Financial Markets: Regulation, Policy & Transactions (LAW 776) - Veronica Santarosa

Securities Regulation (LAW 743) - Nicholas Howson

Legislation & Regulation (LAW 569) - Daniel Deacon

The Future of Money (LAW 830) - Jeffery Zhang

Administrative Law (LAW 601) - Nina Mendelson

Accounting for Lawyers (LAW 751) - James Desimpelare

Tax Policy Seminar (LAW 424) - Edward Fox

Tax Planning for Corporate Transactions (LAW 437) - J. Phillip Adams

Cross-Border Mergers & Acquisitions (LAW 809) - Alicia Davis
Ross School of Business:
Legal Issues in Finance & Banking (BL 507) - Jeremy Kress

FinTech:

Blockchain, Cryptocurrencies, and Other Technology Innovations

(TO 428) - Andrew Wu

Big Data Analytics (TO 628) - Sanjeev Kumar

Artificial Intelligence and Machine Learning in Investment Strategies (FIN 427) - Jason H

Artificial Intelligence for Business (TO 433)

-

Sanjeev Kumar

Financial Accounting (ACC 533) - Gregory Miller

Corporate Financial Reporting (ACC 564) - Ryan Ball

Financial Statement Analysis 1 (ACC 711) - Gwen Yu
College of Literature, Science & the Arts (LSA) (undergraduate students only):
International Finance (ECON 642) - Sebastian Sotelo

Applied Macroeconomics (ECON 502) - Oleg Zamulin

Topics in Microeconomics & Economic Policy (ECON 395) - Esteban Peralta, Jeffrey Ward, Nicholas Montgomery
College of Engineering:
Electronic Commerce (EECS 547 / SI 652) - Michael Wellman

Infrastructure Project Finance (CEE 501) - Peter Adriaens
Entrepreneurial Business Fundamentals (ENGR 520) - Peter Adriaens
Engineering Economics and Finance - Peter Adriaens (Fall 2023
Environmental Finance - Peter Adriaens (Fall 2023)
For a full list of courses we love, including course descriptions, visit the Courses page of our website.